The mission of the Seattle Buddhist Church is "to promote, protect and share the Buddha, Dharma and Sangha." We hope you find what you need here to join or deepen your connection to our religious community known as the Sangha.
The next meeting of the Buddhist Study Group will take place on February 6.   We will be watching the third part of a video/lecture given by Rev. David Matsumoto on the Tannisho at a recent Buddhist Education meeting at the Jodo Shinshu Center in Berkeley.

The meeting will take ...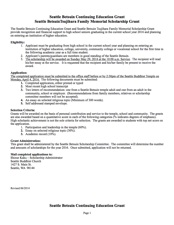 HIGH SCHOOL:  The Seattle Betsuin Tsujihara Family Memorial Scholarship Grant and Seattle Betsuin Continuing Education Grant are offering scholarships to high school seniors graduating in 2016. Details and application here.

COLLEGE:  If you are a currently enrolled student and have completed one year of college, the Masaru & Mitsuma ...
More at the Betsuin Blog »